Foxboro Beer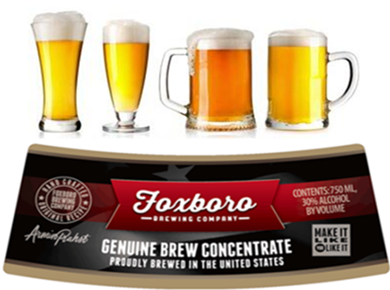 Custom adhesive labels case study
About Foxboro
Their proprietary brewing process, uses the same natural brewing ingredients as regular beers and ales. Foxboro Spirited Brews are true brewed concentrates, without heat reduction to preserve the full flavor profile.
Foxboro Spirited Brew is a modern, convenient approach to the classic taste you love.
Challenge
When Foxboro Brewing Company launched "Western" beer,they wanted a premium and eye-catching package that would stand out on the shelf , In the meanwhile,reduce the cost, But it is difficult  to achieve that goal.So Foxboro Brewing Company turned to us to discuss a shrink sleeve label or custom adhesive label solution.
Solution
The solution turned out to be using the custom adhesive labels on the Western beer bottles. We sent some sample adhesive labels with different materials to Foxboro company , so that they can choose suitable materials as they like. At last they choose one kind of special adhesive paper, which is water-proof. The label set includes front label and back label and neck label.
After initial discussions,we were able to onboard the Foxboro's western beer project quickly so the products could launched in 2 Months. Foxboro company was in need of production samples right away so initial samples were printed within 2 days ,once the products were approved and ready to move forward,we started mass production.
Conclusion
Companies spend thousands of dollars engineering containers,marketing,and testing the components of brand packaging.The money and effort will not be wasted since high quality and cost-effective adhesive labels made by freshmoon will make your brand stand out on the shelf,increase shelf impact and enhance brand identity.
If you want to know more about adhesive labels, please contact us today!