AK cocktail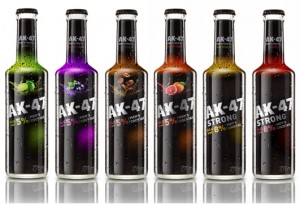 heat shrink wrap case study
About AK 
AK men's cocktail,launched in 2015,is a kind of cocktail focus on men's market.It's a new generation product  beyond the entry-Level cocktail on the market.The "cool-black bottle" design is selected from more than 50 designs.
Challenge
When Douglas(Qingdao) wines co.,ltd launched AK men's cocktail,they wanted a premium and innovative package that would stand out on the shelf .But it is difficult  to achieve that goal.Because there are several cocktail brands on the cocktail market,So Douglas(Qingdao)wines co.,ltd turned to us to discuss a shrink sleeve label solution.
Solution
The solution turned out to be using the shrink sleeve on the AK men's cocktail bottle.We choose PET as substrate because the neck of bottle is narrow which need high shrink percentage film.And the shrink wrap label is from the top to the bottom of bottle.
After initial discussions,we were able to onboard the AK men's cocktail project quickly so the products could launched in 2 months.Douglas(Qingdao) co.,ltd was in need of production samples right away so initial samples were printed within one week,once the products were approved and ready to move forward,we started production on all 6 SKUs- Lime,Coffee,Blackcurrant,Grapefruit,Smoky,GinTonic.
Performance
After AK men's cocktail launched in 2015,the sales increased promptly,you can see them everywhere,TV shows,newspapers,convenience stores,supermarkets ect, AK has become the hot sale products in cocktail market.And the market share has increased to the top level.
Conclusion
Companies spend thousands of dollars engineering containers,marketing,and testing the components of brand packaging.The money and effort are wasted if the final shelf appearance reduces brand appeal.Shrink sleeves are made to convey a powerful 360 degree visual message.In less than a second that a consumer takes to make buying decision,a shrink sleeve label can make the difference.
Heat shrink wrap make your brand stand out on the shelf,increase shelf impact and enhance brand identity.
If you want to know more about shrink sleeve labels ,Please contact us !