DC Automatic Sleeve Labeling Machine Set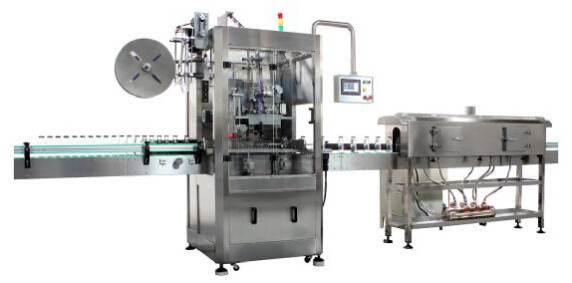 Labeling machine set Consist of : 1. DC-150 Automatic Sleeve Labeling Machine
                                                            2. DC-1200 Electrical Steam Shrink Tunnel
Breif Introduction
1) DC-150 Sleeve Labeling Machine is custom built to meet the exacting demands of
manufacturers and suppliers. It can be used stand alone or integrated in-line and matching filling
equipment speeds.
2) It is built upon a framework of seam welded, food grade stainless steel section. This solid
foundation keeps movement and vibration to an absolute minimum to ensure consistent, accurate
labeling.
3) Unit cutter head plane design in China which apply to the container of ∮30 mm—∮130 mm.
you never need to change or debug it.It also has unique light touch human-machine screen,that
means,auto search original location as well as safety and convenience which is ahead of other
congener products.
4) Double shrinking label feed plane, reasonable height which is convenience to fix the label;
micro-computer auto figure which avoid enactment and adjustment. you only need to press it lightly
,the label will detect and locate automatically.The change of label is quick and convenience,
besides,the cut place is absolutely exact .
5) The newly designed cutter stepper motor which speed is high ,action is exact,the cut is in order
and the shrinking is beautiful.This design cooperate with the label synchronized location structure
enable the precision of cut location within 1 mm.
6) Many emergency stop buttons enable emergency stop at the proper position along the
production which guarantee the safe production.
Technical Parameter
Import Power                                                        3.0 KW
Import Voltage                                                     ∮3, 380/220 VAC
Production Capacity                                            150 bottles/miute
Dimension of Host Machine (mm)                   L2100 * W850 * H2000
Applicable Diameter Container (mm)              φ28 mm ~ φ120 mm
Applicable Label Length (mm)                          30~250 mm
Applicable Thickness Label (mm)                     0.03~0.13 mm
Applicable Inner Diameter of Paper Tube       5"~10"
For more information about labeling machine,Please contact us today! For more info about filling machine,Please click here ,If you want to know more suppliers of labeling machine,Please click here.
How does labeling machine work?
Key benefits
Professional technical support and customized service.
One year quality warranty and free lifetime technique support.
Free spare parts would be supplied if machine broken within warranty period.
15 years manufacture experience.
CE certificated.